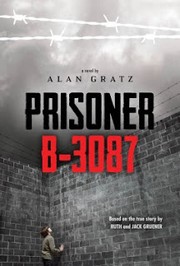 Review by Joseph Puckett on October 2, 2018
Categories: Historical Fiction, Realistic Fiction, GA Book Award Nomine
This book talks about a boy who was Jewish. The Jewish boy lived in Germany during WWII. His life was hard. He survived over 10 concentration camps including Dachau and Auschwitz. Dachau and Auschwitz are two of the worst concentration camps. He gets rescued by the Americans.
I like the fact that you get to experience what it was like. The best part was the end when he was rescued by the Americans. It also talks about friends. If you wanted to live, you had no friends. You also got to know what it was like before and during and after.
I think that a person in 5th grade to 8th grade would enjoy this.