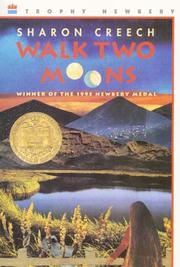 Review by Madeline Earnest on September 17, 2019
Categories: Realistic Fiction
Phoebe is going across the country to see her mother with her grandparents. They get distracted a lot and make a lot of pit stops. It is dangerous and things fall apart and just get in the way. Will she get see her mother? Find out in Walk Two Moons.

It was a very interesting book and had a lot of curveballs, but that's what made it awesome.

I would recommend this for 5th grade and up and people who like adventures.