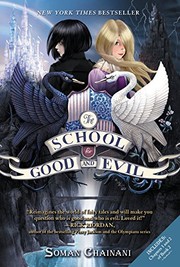 FIC CHA
The school for good and evil (#1)
New York, NY : Harper, 2014.
488, 13 pages : illustrations ; 20 cm.
Beautiful Sophie and ugly Agatha, best friends, are taken by the School Master to the School for Good and Evil where children are trained to be fairy tale heroes and villains. But when Sophie is sent to the School for evil, and Agatha to princess classes, the shocked girls think it's a mistake and try to switch; but unseen forces work to reveal their true identities.
Reading Counts: Level 5.4 / 24.0 Points / 61197.
Lexile: 830L
Available
Regular
1 copy available at Berry College Elementary & Middle School
| | |
| --- | --- |
| ISBN: | |
| Dewey Class No: | [Fic] 23 |
| Author: | |
| Title: | |
| Edition: | First paperback edition. |
| Physical: | 488, 13 pages : illustrations ; 20 cm. |
| ContentType: | |
| MediaType: | |
| CarrierType: | |
| Series: | |
| Notes: | Includes extras: letter from the school master, school entrance exam, and author interview. |
| Citation/Refs: | Horn Book Guide, 10/2013 |
| Citation/Refs: | Publishers Weekly, 6/17/2013 |
| Citation/Refs: | School Library Journal, 6/2013 |
| Summary: | Beautiful Sophie and ugly Agatha, best friends, are taken by the School Master to the School for Good and Evil where children are trained to be fairy tale heroes and villains. But when Sophie is sent to the School for evil, and Agatha to princess classes, the shocked girls think it's a mistake and try to switch; but unseen forces work to reveal their true identities. |
| Target Audience: | |
| Study Program: | |
| Study Program: | |
| Subject: | |
| Subject: | |
| Subject: | |
| Subject: | |
| Subject: | |
| AE:PersName: | |
| SAE:PersonlName: | |
| Link: | |
| Link: | |
Editorial Reviews