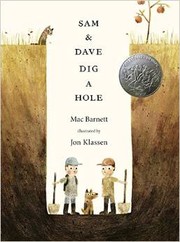 E BAR
Sam & Dave dig a hole
Somerville, Massachusetts Candlewick Press 2014
38 unnumbered pages : color illustrations ; 28 cm.
Sam and Dave decide to dig a hole, and to keep digging until they discover something spectacular. Even though they don't discover they treasure they were in search of, their dog helps them dig through the earth, and they end up in a place that looks like their back yard.
Reading Counts: Level 1.9 LG / 0.5 Points / 169653.
Lexile: 450L
Available
Regular
1 copy available at Berry College Elementary & Middle School
| | |
| --- | --- |
| ISBN: | |
| Dewey Class No: | [E] 23 |
| Author: | |
| Title: | Sam & Dave dig a hole / Mac Barnett ; illustrated by Jon Klassen. |
| VaryingTitle: | |
| Edition: | First edition. |
| Physical: | 38 unnumbered pages : color illustrations ; 28 cm. |
| ContentType: | |
| ContentType: | |
| MediaType: | |
| CarrierType: | |
| Citation/Refs: | Horn Book Guide, 4/2015 |
| Citation/Refs: | Horn Book Magazine, 11/2014 |
| Citation/Refs: | Kirkus Review, 8/15/2014 |
| Citation/Refs: | Library Media Connection, 3/2015 |
| Citation/Refs: | Publisher's Weekly, 8/11/2014 |
| Citation/Refs: | School Library Journal, 10/2014 |
| Summary: | Sam and Dave decide to dig a hole, and to keep digging until they discover something spectacular. Even though they don't discover they treasure they were in search of, their dog helps them dig through the earth, and they end up in a place that looks like their back yard. |
| Target Audience: | |
| Target Audience: | |
| Study Program: | |
| Awards Note: | Caldecott Honor Book, 2015 |
| Subject: | |
| Subject: | |
| Subject: | |
| AE:PersName: | |
| Link: | |
| Link: | |
Editorial Reviews
Awards & Honors