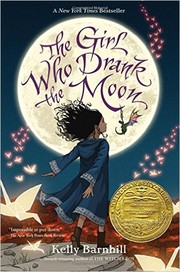 FIC BAR
The girl who drank the moon
Chapel Hill, North Carolina : Algonquin Young Readers, 2016.
388 pages ; 22 cm
Each year, the people of the Protectorate think they must sacrifice an infant to Xan, the witch who lives in the forest. Xan finds the abandoned babies and feels sorry for them, feeding them starlight and delivering them to good homes on the other side of the forest. One year, though, she accidentally gives one baby moonlight, which imbues her with magic. Xan and her friends, Glerk the wise swamp monster and Fyrian, a tiny dragon, decide to raise baby Luna by themselves. However, just as Luna's magic is emerging at her thirteenth birthday, Xan goes to gather the next baby at the same time a young man arrives to kill the witch and end the sacrifices. Glerk and Fyrian try to save Xan, but it is up to Luna to protect those who raised her.
Reading Counts: Level 4.7 / 20.0 Points / 69361.
Lexile: 640L
Available
Regular
1 copy available at Berry College Elementary & Middle School
| | |
| --- | --- |
| ISBN: | |
| LC Call No: | PZ7.B26663 Gi 2016 |
| Dewey Class No: | [Fic] 23 |
| Author: | |
| Title: | |
| Edition: | First edition. |
| Physical: | 388 pages ; 22 cm |
| ContentType: | |
| MediaType: | |
| CarrierType: | |
| Notes: | "Published simultaneously in Canada by Thomas Allen & Son Limited"--Copyright page. |
| Citation/Refs: | Booklist, 7/1/2016 |
| Citation/Refs: | Horn Book Guide, 4/2017 |
| Citation/Refs: | Kirkus Review, 6/1/2016 |
| Citation/Refs: | Publishers Weekly, 6/6/2016 |
| Citation/Refs: | School Library Journal, 7/2016 |
| Citation/Refs: | Voice of Youth Advocates, 10/2016 |
| Summary: | Each year, the people of the Protectorate think they must sacrifice an infant to Xan, the witch who lives in the forest. Xan finds the abandoned babies and feels sorry for them, feeding them starlight and delivering them to good homes on the other side of the forest. One year, though, she accidentally gives one baby moonlight, which imbues her with magic. Xan and her friends, Glerk the wise swamp monster and Fyrian, a tiny dragon, decide to raise baby Luna by themselves. However, just as Luna's magic is emerging at her thirteenth birthday, Xan goes to gather the next baby at the same time a young man arrives to kill the witch and end the sacrifices. Glerk and Fyrian try to save Xan, but it is up to Luna to protect those who raised her. |
| Target Audience: | |
| Study Program: | |
| Study Program: | |
| Awards Note: | Newbery Medal, 2017 |
| Subject: | |
| Subject: | |
| Subject: | |
| Subject: | |
| Subject: | |
| Subject: | |
| Link: | |
| Link: | |
Editorial Reviews