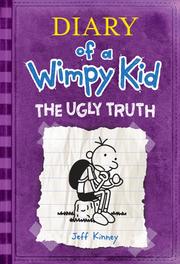 FIC KIN
Diary of a wimpy kid 5: The Ugly Truth
New York : Amulet Books, 2010.
217 p : ill ; 21 cm.
While trying to find a new best friend after feuding with Rowley, middle-school slacker Greg Heffley is warned by older family members that adolescence is a time to act more responsibly and to think seriously about his future.
Lexile: 1000L
Available
Regular
1 copy available at Berry College Elementary & Middle School
| | |
| --- | --- |
| ISBN: | |
| ISBN: | |
| ISBN: | |
| Author: | |
| Title: | |
| VaryingTitle: | |
| Publisher: | New York : Amulet Books, 2010. |
| Physical: | 217 p : ill ; 21 cm. |
| Series: | |
| Summary: | While trying to find a new best friend after feuding with Rowley, middle-school slacker Greg Heffley is warned by older family members that adolescence is a time to act more responsibly and to think seriously about his future. |
| Target Audience: | |
| Subject: | |
| Subject: | |
| Subject: | |
| Subject: | |
| Subject: | |
| SAE:PersonlName: | |
| Link: | |
| Link: | |
Editorial Reviews